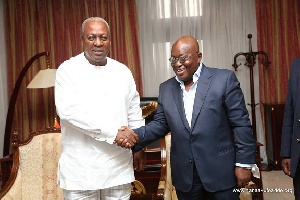 Director of Communications for the Progressive People's Party (PPP), Paa Kow Ackon, has described former President John Dramani Mahama's return to contest as flagbearer as much I do about nothing.
The return of Mahama he said is nothing new and he [Mahama] would not be bringing something new on the table. For him, both the ruling New Patriotic Party (NDC) and opposition National Democratic Congress (NDC), are of the same feathers and represent hopeless parties in Ghana's democratic process.

''The value is the same when it comes to the NDC and NPP and I can confidently say that, both Mahama and Nana Addo have outlived what they can do. They have nothing new to offer Ghanaians. We need to learn from France and Italy and get a new face for Ghana if we want to be competitive.''

''Nana Addo promised Heaven on Earth as an opposition leader but after assuming power, we are still in the shithole. Nothing new has changed after he [Nana Addo] took over.''

He advised Mr Mahama to rescind his decision in contesting the race and save himself from embarrassment.

''The NDC and NPP are taking Ghanaians for granted and only serving their interest and not the interest of Ghanaians. It is the same old stories and excuses,'' he told Kwame Tutu on Frontline on Rainbow Radio 87.5FM.
Paa Kow Ackon urged Ghanaians to reject the two parties if they intend seeing changes in Ghana. Mr John Dramani Mahama on Thursday declared his intention to contest the position as flagbearer.

In stating why he has decided to contest, Mr Mahama said, ''In coming to this firm decision, I have pondered deeply and soberly on the socio-economic and political landscape of our country today vis-à-vis the clear path we have started to build, aimed at positioning Ghana as a true middle-income country by modernising our dilapidated social and economic infrastructure and gradually inculcating in the Ghanaian, a sense of patriotism, self-belief and commitment to a one-Ghana agendum.

I have taken into consideration, the groundswell of support, the never-ending calls and encouragement from a large section of our party elders, members of our party, supporters and Ghanaians, from diverse backgrounds.

I have prayed diligently about the task ahead and I believe I owe a duty to God, and my country, to take our great party back into government to right the wrongs of the past and to put an end to the cries of the people under the current dispensation.

The 2020 election presents our party, the NDC with a great opportunity to offer yet again, visionary leadership driven by a commitment to create opportunities for all our people, not just a few.
Our collective victory in 2020 will end the increasing hardships, expand the base of our economy, create more sustainable jobs, ensure shared prosperity for all and pursue good governance including peace, unity and security.''

As a servant-leader, I have listened with deep respect to the elders of our party, to members of our party, and Ghanaians from all walks of life, and I am honoured to avail myself of truthful, transparent, selfless, unifying and dedicated service to the NDC and above all, to the good people of Ghana.