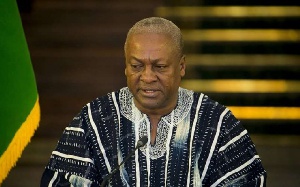 Former President John Dramani Mahama has put up a spirited defence of his young appointees who have been blamed for causing the party's defeat in the 2016 general election.
According to him, those saying that he surrounded himself with young people ('babies with sharp teeth') dislike those personalities and that's why they are quick to blame them for the party's defeat.

In what can be interpreted as an affirmation of trust in his young ministers, the ex-president at a meeting with his appointees, said, "Some say young people surrounded the president…I mean just say I don't like the people not that they are young."

Incessant Accusations

The 'experienced' people in the opposition party have been accusing ex-President Mahama of running a failed campaign by surrounding himself with 'young' and 'inexperienced' people and that led to the party's humiliating defeat on December 7, 2016.

Former National Democratic Congress (NDC) chairman, Dr Kwabena Adjei and former national organiser, Yaw Boateng Gyan, are among the party chieftains who believe that the NDC was walloped because of the inexperienced handlers of the president's 2016 campaign.

Names that are on the lips of these 'senior' NDC members are ex-President Mahama's trusted aide Stan Dogbe and Dr. Edward Omane Boamah, who was the Minister of Communications as well as Kofi Adams, campaign coordinator.
Wise Counsel

They accused Mr Mahama of not heeding to wise counsel from senior party members and rather used his 'boys' to suppress dissenting views in the run-up to the elections.

In the past weeks, party activists like Koku Anyidoho (deputy general secretary), Anita De Sooso (vice chairperson), Joseph Bipoba Naabu (MP for Yunyoo), Yaw Boateng Gyan (former national organizer), among many others, have all claimed that Mahama, then NDC presidential candidate, sidelined most of the executives and rubbed shoulders only with the young appointees.

Campaign Coordinator

A member of the communications team of the party, Agbesi Notsu, described the national organizer and campaign coordinator, Kofi Adams, as a 'disaster' who contributed hugely to the NDC's defeat; and said Kofi Adams did a terrible job as the campaign coordinator which set the party on track for defeat in the polls.

Even Dr. Kwabena Adjei had stated unequivocally that it was the inexperienced people around President Mahama who misled him.
"The handlers were all young, inexperienced and they misled him. I will say this anywhere without any fear or favour. We the old ones come with experience, he should have listened to us)," he told Accra-based Starr FM on Wednesday.

Fights Back

However, the ex-president parried the accusations at the meeting when he said, "All those people they are referring to are above 40 years." He queried, "How can you call a 40-year-old man with wife and children a young man surrounding the president? I don't understand."

"When I became deputy minister to my brother Ekwow Spio-Garbrah, I was 39 years old. Yes, we were young but we served and served properly. I am sure Spio was in his 40s at the time. You can't say he was small boy."