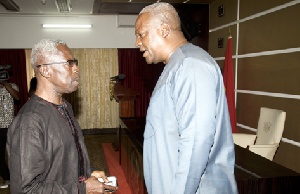 The outspoken politician, Dr. Tony Aidoo, says former President John Mahama and the National Democratic Congress (NDC) failed the country's accountability test.
In a yet-to-be televised episode of TV3's Hot Issues, the former Ghana's Ambassador to the Netherlands observed the Mahama administration failed to counteract the numerous corruption scandals against his government.

This, he argued, contributed to the party's defeat in the December 2016 elections, which he said, was more of a communication strategy fight.

For him, the GYEEDA and SADA scandals among others blinded the electorates to the various infrastructural development of the Mahama administration because the NDC communicators could not challenge those with bare facts. "The effect, therefore, was that, the electorate was blinded relative to the numerous infrastructural projects that you [Mahama] managed to put up.

They became insignificant in the face of the propaganda that your government was corrupt, that you could not create jobs," he observed.

Dr. Aidoo who is perceived to be critical of the NDC, a party he is a leading member of, indicated the communication machinery of the New Patriotic Party in the 2016 electioneering was more effective than the NPP.

"The 2016 electoral campaign was one of pitching communication against communication, unfortunately for the NDC, the NPP propaganda machinery was much more effective," he said. "That machinery has been in operation for more than four years damning you [Mahama and his administration] for being corrupt and so on and so forth.
The numerous scandalous cases, GYEEDA, SADA and so on did not augur well for the Mahama administration," he added. He observed the NDC's communication team was "always on the defensive", something he claimed he informed the then Chief of Staff about, and suggested a better option of "counter-attacking".

"I did discuss this with the Chief of Staff and I said the NPP has pushed you to the position at which you are always on the defensive, it's time you started counter-attacking," he claimed in the interview with Winston Amoah.

According to Dr. Aidoo, the usual justifications that parliament approved those contracts that smacks of corruption was ineffective, and that he would have done a better job if he was in charge at the time.

"If I had been in charge, I would have published the bill of quantities for the public to see rather than relying on the idea that parliament approved these projects," he said.

The justification, he contended "wasn't sufficient because they were challenging you on facts so you respond with facts…In effect, we failed the accountability test". Asked if the NDC caused its own defeat, he responded, "I suppose so"