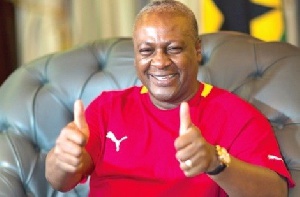 Former President John Dramani Mahama has 'mocked' some media houses that are serializing some sections of the Prof. Kwesi Botchwey committee report to the public.
According to the former President, since the media has decided to blame the report for every happening in the country, they should not forget to use quotes from it in times of crisis.

The Kwesi Botchwey committee report, compiled by a 13-member panel to investigate the cause of the NDC's defeat in the December 7 polls has been allegedly intercepted by some media houses and sections of the reports have subsequently been made public.

Excerpts from the leaked report, among other things said out of 200 cars reserved for media personnel by the presidency, only 4 were given out.

Some sections of the supposedly intercepted report also described former president John Mahama as conducting himself sometimes like a "movie star" and also suggests that the presence of former Communications Minister Dr Edward Omane Boamah and presidential staffer Stan Dogbe around the president, made the former President virtually "naked".

Even though issues in the report have generated intense public discussions, some executives of the party have said the reports are fake and should be ignored.

Commenting on report in a Facebook post, former President Mahama said, "It appears 'KB report' has been adopted by some media as the new handbook for any challenge facing GH. In the event of crisis, open any page and quote. Lol".


Background

The Professor Kwesi Botchwey Committee was formed by the NDC's National Executive Committee, and approved by its Council of Elders to investigate the cause of the party's defeat in the 2016 elections.

The Committee, chaired by a Former Minister of Finance and ex-Chairman of the National Development Planning Commission, Professor Kwesi Botchwey was tasked to conduct hearings among the rank and file of the party, as well as solicit views from members of the party across the country for review and restructuring of the party.

The committee was also expected to "review and validate the results of the 2016 presidential and parliamentary elections and find out the causes of the poor performance of the NDC in both the presidential and the parliamentary election, as well as to deal with other matters reasonably related to the above objectives and to make recommendations to the National Executive Committee about the way forward."