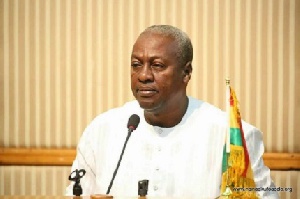 A Deputy National Organizer of the opposition National Democratic Congress (NDC), Joshua Hamidu Akamba has disputed a publication by the Daily Guide Newspaper that former President Mahama per the Kwesi Botchwey report lost the elections because he rejected a strategy the party adopted in Akuse in 2016.
According to the publication, the Kwesi Botchwey Committee made a damming conclusion against Mr. Mahama. The paper said, the report indicated that Mahama's movie star lifestyle contributed to their defeat.

According to the 65-page Executive Summary of the report, "President Mahama lives a life of a movie star," getting to the election in which the NDC performed abysmally. "President Mahama ignored the Akuse strategy. It included no flamboyant campaign, no amorphous group, etc," it said.

However, Mr. Akamba slammed the publication stressing that it lacks the merit and credibility to make such false representation of the report. Although he confirmed a meeting by the NDC at Akuse to strategize in 2016, he rubbished the other claims made by the paper. ''Yes we went to Akuse to plan how the campaign would be run.
But is that what was in the report? The owners of Daily Guide are NPP stalwarts and so why should I trust what they publish? He wondered why the paper will concentrate on focusing on a party in opposition when ''the current administration is failing in their promises.

Have they not seen that? When asked if indeed former President Mahama rejected the party's strategy for 2016 he said, ''If I wanted you to know about that one, I would have organized a press conference. If I wanted you to know the inner problems of the NDC, I would have organized a press conference…We are not going to disclose these things to you.'' He said, I can tell you with all confidence that this publication is not coming from the report