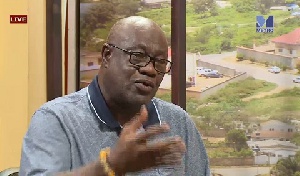 A leading member of the National Democratic Congress (NDC) Fritz Barfour has blamed the 2016 electoral defeat of the party on its departure from their core values of transparency, probity and accountability.
Speaking at the June 4 Uprising Commemoration, the former Information Minister said: "A combination of circumstances in the afore-mentioned term of office which included arbitrariness by party and government officials in their dealings with ordinary citizens, perception of wanton corruption and other excesses fueled by political detractors, poor communication strategies and over-reliance on the construction and commissioning of infrastructural projects as a major campaign tool led to a massive defeat in the 2016 elections."

He further added that the largest opposition party is disunited, needing wholesale reforms.

"Today, the NDC which is meant to be the bonafide custodian of the tenets and ideals is riven with disunity and lack of consensus, monetization, fomenting of personality cult and a discord from the rank and file," he stated.

"Our days in the political wilderness must be spent reconnecting with the ideals and values," he urged.

Background of the revolution

The revolution sparked when the then military government of the Supreme Military Council (SMC II) of General F K. Akuffo put then flight Lieutenant Jerry John Rawlings on public trial for attempting to overthrow the government on May 15th 1979. This happened because Rawlings was a junior soldier in the Ghanaian Army who with other soldiers were refused to be given their salaries.
Rawlings turned the trial against the government by accusing it of massive corruption and requesting that his fellow accused be set free as he was solely responsible for the mutiny. He was incarcerated. His diatribe resonated with the entire nation as there was massive suffering.

In the night of June 3rd, 1979, junior military officers including Major Boakye Djan broke into the jail where Rawlings was being held and freed him, and ostensibly marched him to the national radio station to make an announcement. The first time the public heard from Rawlings was a now legendary statement that he Rawlings had been released by the junior officers and that he was under their command. He requested all soldiers to meet with them at the Nicholson Stadium in Burma Camp in Accra.

The entire nation went up in an uproar. The soldiers rounded up senior military officers including three former heads of states, General F. K Akuffo, Ignatius Kutu Acheampong and Afrifa for trial. They were subsequently executed by firing squad.