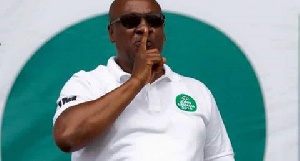 Immediate-past Central Regional Minister Kweku Ricketts-Hagan has asserted that some of former President John Dramani Mahama's appointees enriched themselves at the expense of the public.
Mr. Ricketts-Hagan, who is also a former deputy minister of trade and industry and Member of Parliament (MP) for Cape Coast South, said some 'selfish' and 'greedy' people hijacked the NDC to perpetrate corruption when they were in government, adding that the party should be able to wean itself from such people so as to save the opposition party in future elections.

"A lot of these have gone on in our party where there are people who joined the NDC purely for their own gains and some of the corruption issues and allegations going on are as a result of a few people making things bad for us in the party. We must root these people out of party," he said on Accra FM 100.5 yesterday.

Presidential Bid

Mr. Ricketts-Hagan said he had decided to contest to become the NDC flag bearer for the 2020 elections.

If he concretizes his ambition, he will be expected to challenge stalwarts like former President Mahama – who is staging a comeback – Joshua Alabi, Ekwow Spio-Garbrah, Sylvester Mensah and Alban Bagbin.
The former regional minister averred, "We are the politicians and we must clean our houses, whether it is corruption or whatever; corruption is something that we must be seen to be fighting. As I always say, corruption is like a ghost, you know it is there but sometimes you can't point to it, so, we must look at the root cause of corruption because we are to serve our people, not to serve ourselves."

He said if he gets the chance to lead the NDC for the 2020 elections, he would ensure that those with corrupt minds are kept out.

"That will be one of the core things I will do in our party to make sure that those who are in the party just for the money or positions to enrich themselves at the expense of others are stopped. This attitude has no room for social democratic parties like ours. Ours is to seek the welfare of our people, bring our people out of poverty and improve their economic lifestyle and not to improve the lifestyle of ourselves and our families.

"I have made my intentions known to the leadership of the minority in parliament and other members, and some of them have given me the go-ahead. God willing, if the NDC opens nominations, I will contest in the primaries to become the flag bearer. As a regional minister, I practised the presidency in the region, and so, I have enough experience in governing people. I am an investment banker, and so you can trust me when it comes to investment."

Mahama's Time Over
"I believe that Mr Mahama has done his part; he has played his role and the time has come for new leaders, fresh legs and fresh styles. I have a lot of respect for him but I think we need new ideas," the former regional minister challenged.

Mr. Ricketts-Hagan noted, "As we are presented with a new opportunity to look into strengthening and reinvigorating the future of our party, anchored on our principles and values of accountability, probity, social justice and transparency, we should all appeal to our conscience and not our sentiments to do the right thing that will invariably give us a realistic chance of wrestling back power from the NPP."

"Indeed, it is for this reason that many of us have silently and thoughtfully come to the realization that the time has come for the baton of leadership to change hands so that as a party we can continue our relay race into the future with fresh legs.

"We need to have a new vision, new start and a change in direction, in a way that is reflective of the modern aspirations of our people. These we must do dispassionately and not nostalgically, and no one with good intentions for our NDC party should be afraid of positive change as long as they are in the party to do good by serving the people and not themselves."

Botchwey Report
Commenting on the Prof Kwesi Botcwey-led committee report, Mr Ricketts-Hagan said it was wrong for the party not to make the content public.

"I thought the report was done for us as a party and therefore, all of us in the 275 constituencies of the NDC party must have the report so that we will know what is actually contained in the report to enable us deal with the issues that led to our defeat.

"We cannot sweep the things that happened to us under the carpet and think that we can sit on top of the carpet and preside over a party that is cured of its ailments," he observed.