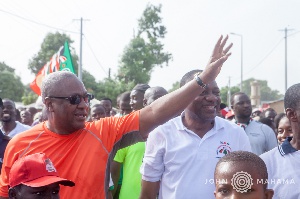 John Mahama's decision to lead the opposition National Democratic Congress (NDC) again is not a surprise, a political science lecturer of the University of Ghana has stated.
"It's widely expected announcement," Dr. Bossman Asare said after the former president publicly declared his intention to become the flagbearer of the largest opposition party.

"To you the teeming supporters and sympathizers calling and requesting me to declare my intentions for the future, I wish to assure you today, that as a servant-leader, I have listened to your calls and reflected. I will not disappoint you even as we await the publication of the party's guidelines for selecting a new leader," Mr. Mahama announced on his official Facebook on Sunday.

Speaking on Morning Starr with host Francis Abban, Dr Asare said Mr. Mahama is the favorite among the other four hopefuls, however, he has an arduous task ahead.

"It's a decision that will make or unmake the NDC because we had a candidate who led the party and didn't make a good showing. The NDC leadership should be asking several questions. They must make certain demands – what are you going to do differently in 2020," the lecturer remarked.

He added: "It's going to be a difficult task for him to overcome."


A former communications minister Ekwow Spio-Garbrah, former UPSA Vice-chancellor Professor Joshua Alabi, former NHIA boss Sylvester Mensah and 2nd deputy Speaker of Parliament Alban Bagbin are among individuals who have declared an interest in leading the umbrella family come 2020.

"Looking at the other contestants, none of them can compete Mahama and succeed… From where I sit, I wouldn't say Mahama should rescind his decision. I think he should be answering questions so we know what he will be doing differently if he gets to lead the party," Dr. Asare stressed.

Meanwhile, a pollster Ben Ephson has advised members of the NDC seeking to lead the party in the 2020 elections to combine forces in order to put up a competent challenge to Mahama at the party's primaries.

"There are five of them maybe they can decide that let's form a ticket that one will contest and one will be running mate. The more candidates they have the more advantageous it is for Mahama. They can get talking to see if they can join forces to beat Mahama," Ephson said.

Mr. Mahama led the party in 2016 elections which saw them losing power to the NPP and president Akufo-Addo.