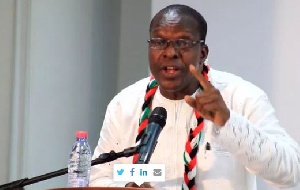 The Chief of Brawire in the Upper Axim Traditional Council, Nana Edusei, has made a passionate appeal to delegates of the National Democratic Congress (NDC) to vote massively for the Second Deputy Speaker of Parliament, Hon. Alban Sumana Kingsford Bagbin, to become the flagbearer of the party.
He believes that Hon. Bagbin has the wherewithal to lead the umbrella family to victory in the 2020 general elections considering his wealth of experience in governance.

To Nana Edusei, it is now the turn of the Nadowli/Kaleo lawmaker to lead the NDC as its flagbearer since the former President, John Dramani Mahama has already been given an opportunity.

Hon. Bagbin has 26 years worth of experience in Parliament. In Parliament, some spend only four years and they are replaced, others eight years and they are also replaced. But if the people of Nadowli/Kaleo constituency have been voting to maintain Hon. Bagbin in Parliament for this long period, it tells you that he has done a lot for them and they also appreciate him".

"So, if such a noble man has come out to contest the flagbearer position of the NDC, let us all support him to win the position and also to become President of the land for him to translate his wealth of Parliamentary experience in governing the Republic. We know that you will be competing with some other party bigwigs including former President John Mahama. However, Mahama has already governed this country for eight years and so we have to support Hon. Bagbin to also come and govern the country for eight years", he noted.
Nana Edusei made this observation, Monday, September 24, 2018, when Hon. Bagbin who is aspiring for the flagbearer position of the NDC paid a courtesy call on Nananom in the Upper Axim Traditional Council to ask for their permission to enable him interact with some NDC members in their locality.

Speaking further, Nana Edusei urged Hon. Bagbin to always remember Axim should he win the flagbearer position of the NDC and subsequently as President of the Republic.

A Divisional Chief of the Traditional Council, Nana Akom-Nda II on his part appealed to Hon. Bagbin to fix the town roads of Axim if he becomes the President of the country.