Former President John Dramani Mahama has aimed a sly dig at the local media, claiming some media houses in the country have shifted focus from national issues to matters relating to the opposition National Democratic Congress (NDC).
His comments come after a section of the media put out contents from the Prof Kwesi Botchwey report, which they claim to have intercepted.

The NDC, though, has denied making the content of the report public, with the party vehemently stating that the whatever is out there is a fake report.

Former president Mahama appears to also have weighed in and sarcastically suggested that some media houses in the country have relegated national issues and are rather focusing on a report which they do not even know its authenticity.

?According to him, some media have adopted the Prof Kwesi Botchwey report as "a handbook" and have made it their guide to solving national issues.

?In a series of tweets, Mahama wrote: "It appears 'KB report' has been adopted by some media as the new handbook for any challenge facing GH." ?He later added, amidst three laughing emojis: "In the event of crisis, open any page and quote. Lol."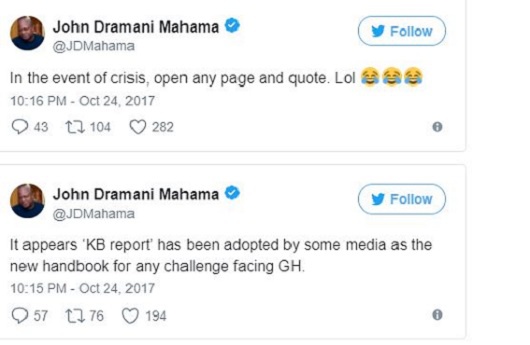 The Prof Kwesi Botchwey committee was formed by the NDC in the aftermath of the party's loss in the 2016 elections.

?The committee was tasked to go around the country and dig out the possible reasons why the NDC lost so woefully in the last elections, as well as provide a blueprint for the way forward.

In June the Committee presented a 455-page report to the Executive Committee of the NDC, however, the party hierarchy refused to make the content of the report public. And despite some media houses claiming to have gotten a "leaked" version of the report, the party still insist it is fake.