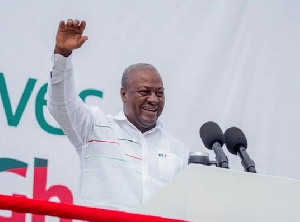 Former President John Dramani Mahama will on Tuesday, 2 October 2018 begin a campaign tour of the Northern Region to interact with delegates of the National Democratic Congress (NDC).
Mr Mahama is seeking the mandate of delegates to lead the NDC in the 2020 presidential elections.

He is scheduled to visit every constituency in the Northern Region during his five-day tour.

Mr Mahama will remind party delegates of the importance of the upcoming flag bearer polls and encourage them to participate in the polls.

He will also urge party members to work together following the constituency and regional executive elections of the NDC.
Last week, Mr Mahama started his campaign in the Central Region where he met with delegates and addressed them on a wide range of issues, including the economy.

Among other things, the former president is promising to work towards a reduction in the high cost of living as well as provide jobs and complete the projects started by his government.

"You can use lies and deceit to gain power. But you cannot use lies and deceit to run and sustain a government", Mr Mahama told delegates in the Central Region.