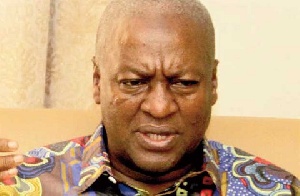 Former National Security Advisor, Brigadier General Nunoo-Mensah, has slammed former President John Dramani Mahama, for failing to consult him on any policy direction as his security advisor when he [Mahama] was president.
He revealed at the launch of Dr. Ekwow Spio-Garbrah's campaign yesterday [Tuesday] that, Mahama did not consult him once on any policy direction he took. He was at the launch with other former ministers and appointees of Mahama to support Dr. Spio-Garbrah who admonished delegates at the La Villa Botique Hotel in Accra to elect him because he is incorruptible.

Mr Nunoo-Mensah further revealed Mr Mahama failed to consult elders of his party, did things on his own and that alone caused his massive defeat. ''I am telling you here that, because he failed to consult the elders of the party, he was abandoned by the elders of the party.

He threw all the good ones of the party away and that was why he lost the elections. He replaced us with younger people who he thought were better than the older ones. That was why he lost the elections. That is my explanation.
He told rainbowradioonline.com that, he chose to support Dr. Ekwow Spio-Garbrah because he believes the diplomat, has what it takes to become leader of the NDC and subsequently become the president of the republic of Ghana.

Speaking exclusively to this website, he said, Dr. Spio-Garbrah has the men, a solid team behind him who has what it takes to lead the NDC to victory 2020. The former military capo said, the NDC needs something better than a candidate who lost an election and coming back to seek reelection after he was defeated in a humiliating manner in 2016.

''If Mahama was good, why did Ghanaians reject him in 2016? Mahama lost because he was not good enough.'' He opined, the former President did not have a good team behind him to support him. He was a poor leader and didn't chose the right people to support him to win the elections.''