General News Sat, 17 Nov 2018
The Swedru School of Business (SWESBUS) has admitted the tallest student ever in the history of the school.
The 16-year-old Ebenezer Mensah who is a day student is among the gold track of students who started their senior high school education last Monday, November 12, 2018 and is studying General Arts.

He began his basic education at the Swedru Presbyterian Basic School but later moved to the Victory Preparatory School at Oteipro near SWESBUS, where he completed his basic education.

He is the only child of his parents and lives with his mother at Ankyease, a suburb of Agona Swedru.

Due to his gigantic height, Mensah is always the toast of his friends.

The lanky Mensah, at 2.06 metres currently, midgets his friends while around him.

First day in school
When Ebenezer Mensah reported to SWESBUS on his first day on Monday, November 12, 2018 to go through the registration process, Graphic Online gathers that security men at the gate were curious about his height upon seeing him in the white, short-sleeved shirt over brown khaki shorts and black sandals that is prescribed as the school uniform.

They approached him to be sure he was a first-year student and not an imposter, before ushering him to the campus to be met by stupefied gazes.

When news of his presence went viral on campus, continuing students, both teaching and non-teaching staff abandoned their activities so they could catch a glimpse of their new sensational companion. Some went on to pose with him in front of their phone cameras. Classes were momentarily interrupted.

Mensah was welcomed with thunderous shouts and cheers from, particularly students who could not hide their amazement and shock at seeing him in the school.

Since then however, his presence in the school has become a trending issue, drawing the curious from far and near to the school.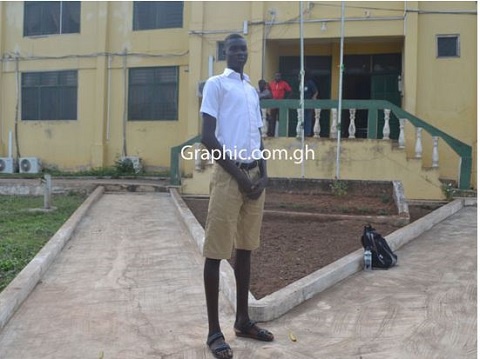 Future dream

In an exclusive interview with Graphic Online's Swedru correspondent, Gilbert Mawuli Agbey, Ebenezer Mensah said that his dream is to become a sports journalist in future and a basketball player. He added that he wants to go through training to become a professional basketball player.

'I think I will in the near future become a very good basketball player who will represent Ghana on the international scene", he indicated.

He stated that God has been good to him with such a height.

Ebenezer noted that he does not feel intimated when found among others, stressing that "anytime I am among my contemporaries I feel very welcomed since everyone feels like being with me."

"What makes me so happy is the fact that anytime I walk around especially on my way to school, I see people come out of their houses to watch me as I pass by, some call me names and I respond by waving at them."
He indicated that some people shower gifts on him, either in cash or in kind when they meet him for the first time and that such gestures had motivated him to go the extra mile to become a prominent person in future.




Life at home

Shedding light on what he does at home, Mensah said due to his height, he always had to bend down before entering their house and rooms.

According to him, he can't occupy his personal bed at home since it is too short for him and that in order to have a comfortable sleep, he either bends his legs while sleeping on the bed or he rests his upper frame up on the bed while his legs hangs off the bed.

He admitted that this situation is uncomfortable but he has no option immediately than to adjust to the situation.
Headmaster

In an interview, Mr Justice Kojo Frimpong, the headmaster of the school could not hide his joy except to say that Mensah's presence in the school has rejuvenated and motivated both the staff and the students.

He stated that SWESBUS had become more popular due to his presence and that they would mould him to make the school proud across the country as well as internationally.

He said that management of the school would keenly monitor him and ensure he is disciplined in order for him to achieve his aspirations, noting that he would be handed over to the sports department for him to develop his full potential in basketball.