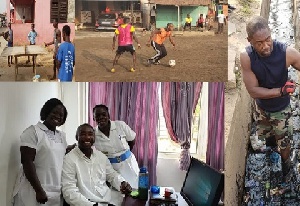 We've all heard of their exorbitant excesses wealth and extravagant lifestyle especially when they win power.
The same old bourgeoisies who the large majority of the public view as out of touch, self-interested, dishonest and corrupt, especially when elected.

But the exceptions to the rule do exist. Few as they are in numbers and one of such is the New Patriotic Party (NPP) Member of Parliament (MP) for the Ledzokuku Constituency, Dr. Bernard Oko Boye.

Unlike many MPs who rarely heart-to-heart with their voters except in election years, the Ledzokuku MP joins his constituents to play 'small poles' (a local name for street football) every weekend.

His constituents especially when playing football with them often eschew honorifics like 'Honourable' 'Chairman' or even 'Sir'.

'Oko, hey Oko pass, Oko pass' is what you often hear when he's playing and the ball gets to him. Vibrant, spirited and humble, Oko has probably taken advantage over his youthfulness to establish an inextricable bond with his constituents including even minors who he often play table tennis with.
Oko Boye who is just 36 years old and a medical Doctor by profession joins his constituents to desilt choked gutters and perform other communal labors every month.

When interviewed on one occasion, Dr. Boye said the incident of flooding in the city is as a result of choked gutters that hinder the flow of water anytime it rains. He said such gutters must be desilted to prevent the flooding.

As a licenced medical doctor, Dr. Boye works at the Lekma Hospital offering free medical consultation once every week and periodically medical outreach in his electoral area.

On development matters, the Ledzokuku legislator is currently overseeing the renovation of the largest market in Ledzokuku called the Lascala Market.

Dr. Boye also launched the Oko Boye 0% interest loan and also Oko Boye Skills Support Program meant to provide Capital investment for small business in the constituency.