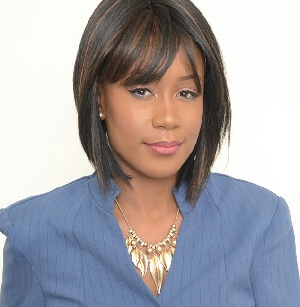 Some irritated clients of embattled gold dealership firm, MenzGold have secured the services of an International-Ghanaian Lawyer Amanda Clinton to represent them in court as they fight to retrieve their monies from the defunct company.
Lawyer Amanda Clinton who represented the Ghana Football Association to ensure that the institution was not legally grounded by the government is now representing multiple international clients who want their monies back from embattled Menzgold.

According to Lawyer Clinton, her firm has been inundated with requests from clients who are keen to get all monies returned to them in the wake of what has been informally classified as a Ponzi-Scheme by Menzgold Ghana Limited.

The clients who are mostly based in Belgium, the U.S and the U.K have requested that the experienced Lawyer assists them to recover payments for accrued interest and their principal investments.

One client, Roger Knauf disclosed that he invested an initial GHC 160,000 cedis in February and GHC 7,243 cedis for trading into the gold dealership firm earlier this year. He later added GHC 77,400 and GHC 1,200,000 cedis in July. However, for the first payment the client received 10% of his money in the value of GHC 16,000 cedis on the 16th of every month that is March, April, May, June, July and August of 2018.

To his utmost surprise upon returning to Ghana to settle in the summer of 2018 to start a business project the infuriated customer said the second and third investments he made reaped no dividend save for 10% in August 2018 till date when the company was annulled by Ghana government.

Meanwhile, other customers who form part of a group calling itself 'Aggrieved Customers of Menzgold' have made enquiries to Lawyer Clinton's office about being legally represented to ensure swift payments of their investments.
More customers are likely to sue Menzgold Ghana Ltd. for breach of contract and misrepresentation.



Although the embattled CEO, Nana Appiah Mensah is said to be in South Africa with his family, Menzgold had earlier said it was unable to pay its customers matured dividends on their gold investments due to the action taken against it by the Securities and Exchange Commission (SEC). But the SEC did not agree with Menzgold's position, saying its action did not stop them from paying customers returns on existing investments.



Meanwhile, the SEC has indicated that it is yet to receive adequate information from Menzgold after it ordered the suspension of its gold trading business.