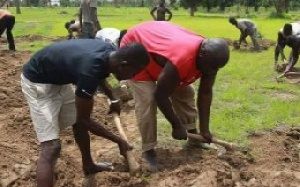 All Ministers of State, as well as Members of Parliament, could soon be compelled to go into farming if a proposal by Deputy Minister of Food and Agriculture, George Boahen Oduro, to that end is successful.
Mr Boahen Oduro told host of Kumasi104.1FM's morning show, Nana Kwadwo Jantuah on Tuesday, 7 November 2017 that government is considering replicating the policy which is operational in neighbouring Ivory Coast.

"When you go to Ivory Coast, all the ministers over there are being forced into farming, and all of them have farms. That is what I want us to introduce here," he said.

The Member of Parliament (MP) for New Adubiase indicated that soon the initiative could be implemented in Ghana to help increase the nation's food stock. "Very soon we will let the nation know", he said.
The minister said the Akufo-Addo government is committed to ensuring food security and that various partnerships are being struck with the private sector to expand farming.

Mr Oduro pointed out that previous governments were focused on state farms, a situation which was not helpful, hence the need to rather rent state lands to private entities and help them establish successful farms.

He said the government's Planting for Food & Jobs initiative is a key project targeted at helping farmers with subsidised inputs with the hope of creating more jobs for the youth.