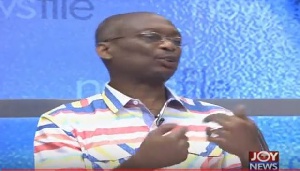 Editor-in-Chief of the New Crusading Guide newspaper, Abdul Malik Kweku Baako Jnr., has taken a jab at the Minority in Parliament after their threat to sue the Criminal Investigations Department (CID) of the Ghana Police and Daily Guide for putting out in the public domain that some of its members were paid double salaries under the erstwhile Mahama administration.
The Minority, at a press conference, registered their displeasure over the latest development in Parliament.

Minority Spokesperson on Finance, Ato Forson and the Minority Chief Whip Mohammed Mubarak Muntaka on Tuesday, April 11, 2018, speaking on behalf of the opposition National Democratic Congress (NDC), said the CID's invite to some 25 members of the minority for them to be investigated on the matter and subsequent publication of the matter by the Daily Guide, is a mere attempt by the government to divert attention from the controversial Ghana-US Military agreement.

"We must state for the records, contrary to the claims by DAILY GUIDE, no former appointee has offered to make refunds of double salaries. We challenge them to adduce evidence of their claims," the minority members said.

The Minority explained that it's untrue that the accused members, who were former Ministers and Deputy Ministers, were paid double salaries but rather the money was paid to cover some accumulated arrears the government owes them.

"It is important to note that the Minister of Finance instructed the Auditor-General to subject the releases to audit and reconciliation to determine the actual amounts due each individual Article 71 officeholder since they had only been paid in advance.

This was done and it emerged that the government owed the Article 71 officeholders huge salary arrears," the Minority stated.
Commenting on the issue on Kokrokoo on Peace FM, the seasoned journalist, Kweku Baako wondered why the Minority, for that matter the National Democratic Congress, is today questioning the reputation of the CID.

Although he equally questioned the role of the CID on the matter, Mr. Baako, however, believed their reputation shouldn't be undermined.

"…I wonder why the Minority straightaway thinks this is government's witch-hunt or manipulation of the CID. I wonder why the Minority is suggesting that the CID, until this administration, had a reputation…I'm wondering why suddenly the Police CID doesn't have reputation relative to the Minority".

Kweku Baako also sought to find out how the issue arrived at the doorstep of the CID because to him, the appropriate authorities to investigate it should be the Auditor-General and the Controller and Accountant General; and if any criminal act is established, the CID would take it up.

He, therefore, counselled that "we should take our time and deal with the issue in such a way that [1] you're not accusing people without evidence. [2] We're looking at how we can structure this process in such a way that we won't repeat this same saga".