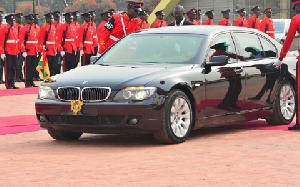 The opposition National Democratic Congress (NDC) is prepared to meet with the Akufo-Addo-led government to discuss matters relating to the allegedly missing 208 cars at the presidency, Johnny Osei Kofi, former Deputy Chief of Staff in the Mahama administration, has said.
According to him, although he believes there is no iota of truth in the claims that some cars are missing, a meeting between the current and former Chiefs of Staff, Frema Opare and Julius Debrah, respectively, will help unravel the truth surrounding the development.

There is currently a back and forth between the Akufo-Addo government and the erstwhile Mahama administration concerning the number of state vehicles left at the presidency after the president's press secretary, Mr Eugene Arhin, revealed that 208 state cars were missing.

The former government subsequently released a statement on Thursday saying it left behind 641 cars and dared the new government to point out the alleged missing ones.
Speaking in an interview with Kumasi-based Kessben FM, Mr Osei Kofi said: "The issue about the missing cars is murky, but I believe that there is no iota of truth in what the government has put out there. But for us to be sure whether or not those cars are missing, officials in charge of vehicles at the seat of government should call for a meeting with the outgone government officials who were also in charge of the cars.

"This matter is not about fighting, it is the truth that we are all after. Now the government says this, our side (NDC) is also saying that, so the current Chief of Staff should invite the previous Chief of Staff to sit and iron out the issues. Ghanaians are interested in knowing the truth," he said.