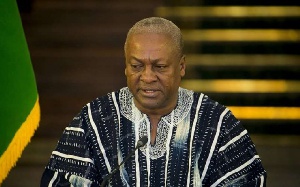 Former president John Dramani Mahama has said his decision to contest the 2020 presidential polls is in the hands of God.
He also expressed his readiness to support anyone who emerges as the candidate for the party in 2020 and called for the same support if he emerges as the candidate.

He charged party supporters to also put behind them the defeat and focus on reorganization and restructuring of the National Democratic Congress (NDC).

"Whether I will contest or not is in the hands of God. Let's concentrate on strengthening the party and making it battle ready for whoever we choose to lead us in 2020.
"An excellent Jockey can fail if the horse is not healthy…..On my part, I will support whoever leads us into 2020 as much as I will expect if I lead you into 2020".

Mr. Mahama at a National Executive meeting of the party on Wednesday added "the 2016 election is over, but as a party we live to fight another day," adding that "God and Ghanaians will vindicate the NDC in 2020".

He tasked party executives and members of parliament present to "go back to their constituencies to help reorganize the party, right from the branches- proper branch reorganization with genuine and free & fair elections".