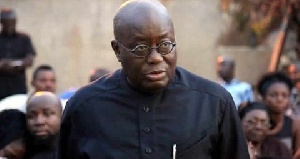 President Akufo Addo has declared himself and his family as not corrupt as he points to a conspiracy by his political opponents who are bent on tagging some of his relatives as corrupt.
According to him, members of his family are fully aware of their defined roles and are behaving accordingly.

Speaking at an ongoing Internal Audit conference in Accra on Wednesday, President Akufo Addo urged Ghanaians to support him in his avowed pledge to ruthlessly fight corruption.
"I came to renew publicly the sacred vow that I took to protect the public purse, I came also to acknowledge that this is not a battle I can wage or win alone. There are many layers to the protection of the public purse and internal auditors are primary defenders.

"I want to say that the stringent and desperate effort being made by my political opponents to tarnish me and members of my family with corruption will simply not wash. I didn't come into public office to make money out of public service and members of my family know fully well that they have to behave and not be involved in anything untoward. I'm aware that you give a dog a bad name in order to hang it , but this dog will not be hanged."