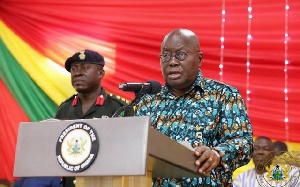 President Nana Akufo-Addo has pointed out that the New Patriotic Party (NPP) is honouring the pledges made in its manifesto in the build-up to the 2016 polls, adding that his actions are testament to the fact that the promises were not mere talk.
"We have proven that they were not mere rhetoric or campaign talk, and neither were they meant to deceive the people of Ghana into voting for us, nor to score cheap political points," Nana Akufo-Addo said as he addressed the National House of Chiefs on Monday, 6 November 2017 in Kumasi, Ashanti Region.

According to him, the NPP believes the pledges represent effective vehicles for the rapid development of the country.

For him, providing the country good governance has meant that "my government has begun to fulfil the pledges we made to the Ghanaian people".
Government rolled out its flagship free Senior High School (SHS) policy in September 2017 and has made announcements on progress towards its one-district-one-factory initiative among others.

Meanwhile, Nana Akufo-Addo has resolved not to allow vigilantism and criminal misdeeds to fester under his leadership.

"I will not walk the path others trod who found it convenient to turn a blind eye to the criminal misdeeds of their followers and took no action, as it would displease them," he said, adding: "I am walking another path, the path of making reality the principle of the rule of law, the idea of equality of every citizen before the law. Wrongdoers wear no political colours. They are just wrongdoers, and will be dealt with as such."