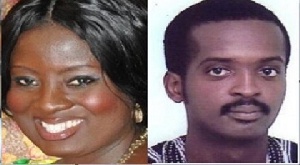 Victoria Hammah was corrupt just like the other corrupt officials under former president John Dramani Mahama, Lord Hammah has stated.
The NDC activist who is related to the former deputy communication minister who was sacked over her claims that she would stay in politics until she earned $1m (£600,000), shredded her sister and maintained that she was carried away by her position.

Victoria Hammah was caught on tape making the alleged claims, and on the recording she appears to suggest money is central to political power in Ghana.

It is reported she said: "If you have money then you can control people."

Lord Hammah was responding to a question from Kwabena Agyapong-sit-in host on Rainbow Radio's morning show Frontline; whether he is morally fit to slam former president Mahama over his style of leadership since her sister was part of that government.
The NDC member has been slamming Mr. Mahama and described him as a failure and a corrupt leader.

Some party stalwarts have slammed back asking him to remain calm since his sister was part of the failure he is complaining of.

However, Lord Hammah says he will not keep mute and in mincing no words, he said, his sister was corrupt just like the other officials but her corruption was the least, he added.

''The conduct of my sister had no connection to me. Her appointment showed the kind of people they are. She was one of them…She was corrupt just like the other officials including Dzifa Attivor and the rest. She was the least corrupt but she was one of them. There is nothing common between me and Victoria Hammah. The only common thing between us is that, we are siblings and support the NDC. They appointed her because she shared in their values.''