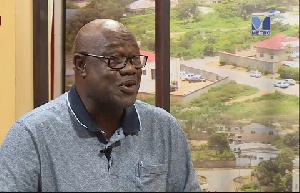 Former Information Minister in the Mills-Mahama administration, Fritz Baffour has described as "unfair" accusations of betrayal levelled against him following his declaration of support for Alban Bagbin in the National Democratic Congress' search for a flagbearer ahead of the 2020 elections.
Mr Baffour who was unveiled moments earlier as the director of communications and campaign of Bagbin in his bid to lead the NDC into the 2020 elections was heavily chastised and accused of betraying former President John Mahama by some section of the NDC for supporting the candidature of the Second Deputy Speaker of Parliament last Wednesday via Facebook.

Reacting to the accusation Monday, Mr Baffour who is a former Member of Parliament for Ablekuma South said: "I am a member of the National Democratic Congress (NDC) and if I'm called to help… I will. So, I am here to help a colleague of mine who I am proud to work for. So it is not a question of I have rescinded my decision not to be part of active politics. I am a member of the NDC and I am doing the work of the NDC.

"As to the betrayal, I think that's very unfair to me and to the previous administration. I came onboard as a Member of Parliament and it is the prerogative of the President to appoint who he wants to choose and I was appointed by John Evans Atta Mills and at the end of my first term a new team came into being."

"Some people I know have said that I was peeved but I was not.
"It is not the question of turning my back to the previous president. I would like to say that he is somebody I know and I respect and the fact that he is standing is very very much his right. If it's constitutionally right, fine. But I said in a democratic dispensation you have the right to choose and I have chosen to work with Alban Bagbin. So that's the situation. So it is not a question of any betrayal," he added.

According to him, his decision to support Mr Bagbin "was not based on any malice." "It's because I feel he's a good man. All the contestants for the NDC flagbearership are people I know and I have a lot of respect for. But this is a democratic dispensation and a process and so I have come out to support Alban Bagbin."

He said as a staunch believer in the values of the NDC—transparency, probity and accountability—Mr Bagbin for him among all the about 13 persons hoping to lead the NDC into the 2020 elections is the only embodiment of those values.

"I believe that Alban upholds all the values of the NDC. We are the party of the vulnerable, we are the party of the voiceless, we are the party of the man in the street and we believe in equal opportunity for all and that we should be the ones to ensure means for people to have access to best things in the society."