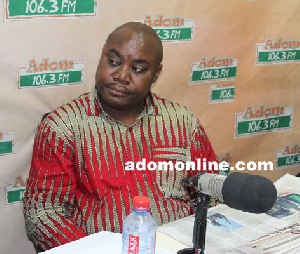 Sat, 1 Apr 2017 Source: dailyheritage
A member of the opposition National Democratic Congress (NDC) communications team, Mr Agbesi Nutsu, has waded into the raging bickering within the NDC following the 2016 embarrassing electoral defeat.
According to him, the 2016 election campaign of the NDC was funfair with no direction.

He said the campaign team lacked direction and focus as they were following the then President John Dramani Mahama instead of forming groups and campaigning in different areas.

Mr Nutsu said the national executive failed to connect with various regional, branch and local executives to move and have effective campaign across the country. This, he said, contributed to apathy at the grass-roots level.

Speaking on KASAPA FM's morning show, 'Anopa Kasa', hosted by Fiifi Banson yesterday, Mr Nutsu revealed that the national campaign executive failed to select the right people in terms of language and culture.

He said in the Volta Region, for instance, it was difficult for the people, especially the old or those who could not speak the Twi language, to understand the message they were campaigning on.
He said when Mr Peter Amewu and his counterparts of the then opposition New Patriotic Party (NPP) were using Voltarians to campaign seriously in the local dialect; the NDC was busily sending people who spoke Twi to the region.

The communications team member also described the national organiser of the party, Mr Kofi Adams, as a "disaster" who contributed hugely to the NDC's shameful defeat in the 2016 elections.

He said Mr Adams did a terrible job as the campaign coordinator which set the party on track for defeat in the polls that the NDC was confident of winning.

"Kofi Adams failed completely, he was a disaster. This defeat should be blamed on Mr Adams. In 2008, Ofosu Ampofo was the national organiser, was he the campaign coordinator? In 2012, Yaw Boateng Gyan was he the campaign coordinator? So why didn't we continue the precedent, why on earth was Mr Adams, the incumbent national organizer, made the campaign coordinator of the 2016 elections?" he quipped.

"The man himself is a disaster and you top it up with the position of a campaign coordinator, what good do you expect from him?
"Lots of things happened in our campaign which were wrong, we had a whole national director of election moving with the vice president's campaign team, why was it so? The deputy director of election was a parliamentary hopeful in the North, so who was controlling the election directorate of the NDC?" Mr Nutsu asked.

Mr Nutsu said people around the former President knew that they were losing, yet they sang praises to him, telling him he was winning.

Though the Prof. Kwesi Botchway Committee had been tasked to investigate what led to the party's defeat, members of the NDC had in the past few days traded accusations against each other in the media.
Source: dailyheritage