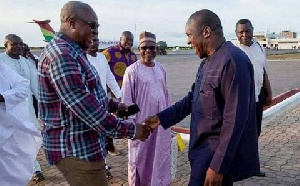 The Second Deputy Speaker of Parliament Alban Bagbin has described the backing of former President John Mahama by some 94 Members of Parliament of the NDC as a good omen for his campaign.
The endorsement, according to him, will inspire him to leave no stone unturned in his quest to lead the NDC into the 2020 elections.

The MPs, on August 23 announced their absolute support for Mahama to lead the NDC into the 2020 elections after submitting his letter to the executives of the party to announce his intention to join the flagbearership race, with 12 abstaining.

In a press release endorsing the candidature of Mahama, the MPs observed: "Our support is volitional and of our free will.

"We have pledged to contribute our time, expertise and personal resource to campaign for His Excellency to ensure a resounding victory in the Presidential primaries and galvanize the entire party around His candidature to wrestle power from the clumsy and inept government of Nana Addo Dankwa Akufo-Addo."

The press release was signed by Fiifi Fiavi Franklin Kwetey (MP, Ketu South), Inusah Abdulai Fuseini (MP, Tamale Central), Magnus Kofi Amoatey (MP, Yilo Krobo) and Dominic Akuritinga Ayine (MP, Bolgatanga East).
The rests are; Joseph Yieleh Chireh (MP, Wa West), Edwin Nii lante Vanderpuye (MP, Odododiodioo), Samson Ahi (MP, Bodi), Eric Opoku (MP, Asunafo South), Cassiel Ato Forson (MP, Ajumako/Enyan/Esiam) and Muhaammed Bawah Braimah (MP, Ejura Sekyedumase).



In his reaction, however, at a press conference Tuesday to address the public outburst that hit some of his comments during his campaign tour of the Volta Region, Bagbin noted that it is the right of the MPs to root for their candidate of choice and he does not begrudge that.

"I don't have personal scores. No. in fact, in my presentation in Volta Region I have dwelt a lot on exhorting on people to eschew hatred, ill-will, bad motives because these are not healthy, a danger to our individual health," the embattled longest-serving lawmaker stated.

"That's why if you ask my colleagues in Parliament after they criticized me, some are a bit reluctant to come close to me. I usually walk to them and say look I don't have any problem with you taking a decision that is not in support of what I'm doing, because I have taken the decision to contest, you can take a decision not to contest," he added.