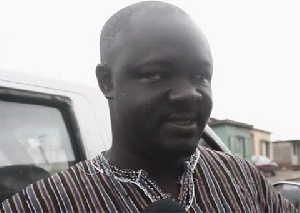 Younus Mohammed, who recently contested the election to become the Western Regional Organizer of the National Democratic Congress (NDC), has quit active politics.
Younus Mohammed blamed some politicians for his defeat in the recent election.

Embittered Younus Mohammed alleged that some party bigwigs he termed "Accra Caucus," teamed up with other regional executives and Members of Parliament (MP) in the Western Region and campaigned against him during the Regional Delegates' Conference held at Sefwi Wiawso.

"It is for this reason and others that I am abstaining from active politics," he stressed.

Speaking in interview to Takoradi-based Skyy Power FM, Mohammed Younous remarked "I won't do any NDC politics again. I'm totally out of it.

"I am a member of the NDC so I would definitely vote for the NDC; but for active politics that is the end."

"At the venue I heard some people called Accra Caucus came with huge amounts of money to share to delegates. Some people that we feel are big men entered the grounds and started campaigning," he alleged.
He added that "former DCEs, former MPs, everybody were campaigning against me."

"It got to a point that delegates were asked to take a picture of their ballot papers and return for money. How can you go to that extent?"

Younus Mohammed disclosed that at a point he abandoned the campaign for weeks as a result of the financial challenges and admitted the move partly led to his defeat.

"Actually I didn't have money. Even at the time of filing my nomination, it was by God's intervention that helped me to file.

"When it came to the campaign itself, everybody was going but I was at home struggling, cracking my brains as to how I would be able to move," Mr Mohammed said.

Younus Mohammed expressed disappointment in some MPs and previous parliamentary candidates who failed to support him.