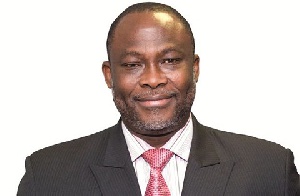 Former Trades and Industry Minister, Ekwow Spio-Garbrah has appealed to the leadership of the opposition National Democratic Congress (NDC) to dedicate at least 10 per cent of the party's resources to a nationwide survey, which will seek to find out from Ghanaians, who, among the list of 12 NDC flag bearer aspirants, will be suitable to lead the country in the future.
According to Mr Spio-Garbrah, the move will guide party delegates in selecting the right candidate for the party instead of dwelling on an individual the party delegates like.

Speaking at the launch of his "Ambition to lead the NDC to victory in the 2020 presidential election", Mr Spio-Garbrah said the decision to select presidential and parliamentary candidates on selfish and factional grounds caused the defeat of the party in the 2016 polls, hence the same mistake must not be repeated.

He said: "Let me also charge NDC delegates not simply to vote for whoever or anybody that we say we like, it is good to like any of us as aspirants, but it is not who NDC likes that is necessarily going to be liked by the people of Ghana, because in 2016, we selected candidates that we thought we liked both for presidential and parliamentary, we in the NDC liked them, but the people of Ghana said: 'We don't like them'".
"So, how do you find out who Ghanaians would vote for before the election? The NDC must spend a lot of money, a minimum of 10 per cent of whatever we think we are going to spend on the national election; so, let's say, if NDC is going to spend GHS10 million on the whole 2020 elections, spend 10 per cent of that testing the Ghanaian population with regards to whom they will like to vote for and why, because once you find out who the people of Ghana will vote for, it becomes easier for you to hopefully vote for that person so the people of Ghana can vote for the same person.

"If the people of Ghana say they want this person and you go and bring somebody else, you have to accept your responsibility for not listening to whom the people of Ghana would like to vote for."