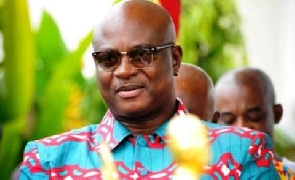 Former Mayor of the Kumasi Metropolitan Assembly (KMA), Kojo Bonsu is soliciting for funds in order to prosecute his agenda of becoming flagbearer of the opposition National Democratic Congress (NDC).
A post on his Facebook page accompanied by a flier he stated "Make your 2020 contribution to the unity and victory of the NDC. However humble or generous, your contribution will help build a united and victorious NDC by supporting Kojo Bonsu as NDC flagbearer"

Mr Kojo Bonsu who was the main architect of the party's Unity Walks is the 13th person to have declared his intention to lead the NDC ahead of the 2020 elections.

There are still questions being raised as to why he refused to back former President John Dramani Mahama but chose to form his own brigade to contest him and others.

In a justification of his decision, Mr Kojo Bonsu last week on Accra-based Asempa FM said "The party grassroots say I am handsome and if I contest I will become president. So I did a number of consultations before arriving at the decision to contest as Flagbearer of the National Democratic Congress (NDC)"
They have asked that I should go for the ultimate because I am charming and it will fit me. I can put things in place so I listened to them and did consultations before coming to announce my decision to contest", he revealed on Accra-based Asempa Fm.

According to him, he got the encouragement from the party's grassroots coupled with his standing in the party.

"I have been a member of the party for a longer time and qualified as flagbearer aspirant. I thought about it before I decided to contest for NDC flagbearership," he added.