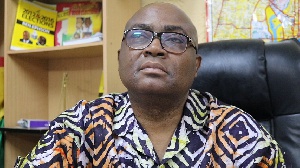 Managing Editor of the Daily Dispatch Newspaper, Ben Ephson, has said anyone with the intention to lead the National Democratic Congress (NDC) in the 2020 presidential elections must be able to raise the GHC420,000 filing fee.
According to the renowned pollster, one of the qualities of a flagbearer is his ability to raise funds for his party and therefore he will be surprise to hear flagbearer hopefuls of the NDC complain about the exorbitance of both the nomination form and the filing fee which has been pegged at GHC420,000.

Speaking on Kasapa Fm, Ben Ephson said, "The money is big but I believe anyone who wants to be flagbearer, you have to be able to raise the money somehow because, in this country if you are the flagbearer, you will have to raise money towards the party's campaign both for the presidential and the parliamentary. So if at this stage you can't raise GHC420,000 to pay for your nomination, for me it's a problem".

The NDC's General Secretary, Johnson Asiedu Nketia, who made the announcement yesterday November 29, 2018 said the fees were moderate despite the uproar within the party.

He has said the fees will help cater for the expensive cost associated with holding elections.
"If you compare these monies against the cost of organizing the activities we are talking about, you will realize that the party will still have to raise money to supplement whatever will be accruing from these filing fees so I do not see how anybody can say that it is outrageous. NPP three years ago was charging 500,000. We were all with you here in this country, did you complain?"

The party took the decision at a National Executive Committee (NEC) meeting on Thursday, 29 November at the party's headquarters in Accra.

All male flag bearer aspirants are expected to pay GHS 400,000 as filing fee while female flag bearer aspirants as well as persons with disability aspiring to the same position, are to pay GHS200,000, the party stated.

The parliamentary aspirants are expected to pay GHS 20,000 as filing fees while Female parliamentary aspirants are expected to pay half of that.