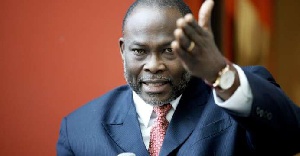 The National Democratic Congress (NDC) will win the 2020 presidential and parliamentary elections, Dr Ekwow Spio-Garbrah, a flagbearer hopeful of the main opposition National Democratic Congress (NDC) has said.
According to him, the current New Patriotic Party (NPP) administration has failed to meet the aspirations of the teeming Ghanaian youth, therefore, the NDC will win the elections to provide hope for Ghanaians.

"In 2020 we're coming back and NPP will take a rest," he said on the State of Affairs show on GHOne television on Thursday, 29 March 2018.

He added: "110 ministers is certainly more than was necessary especially when there were ministries that there were two people doing the job that seven or eight people are doing now.
"Nobody has seen the extra ordinary productivity that has come out from a party that said they have competent people and that the other party was not competent.



"There are a lot of questions being asked not only in Ghana but everywhere, people make jokes on foreign TV with Ghana having the largest cabinet."