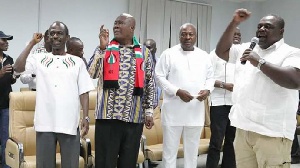 The National Democratic Congress (NDC) is facing probably its toughest challenge after losing the 2016 presidential and parliamentary elections to the New Patriotic Party (NPP), Dr Mohammed Abass, a political science lecturer at the Kwame Nkrumah University of Science and Technology (KNUST), has said.
According to him, the defeat of the party in last year's polls clearly showed a disconnect between the top hierarchy of the party and the grassroots, a situation he believed had led to bad blood between founder Jerry John Rawlings and some executives of the party.

Speaking in an interview with Accra News' Naa Atswei Oduro on Thursday June 8 on the 25th anniversary of the NDC, Dr Abass said: "We are all expecting that the National Democratic Congress will put its house in order and deal with the challenges that they are confronted with since the party went into opposition, so that they can provide the formidable opposition needed in the country.

"We all know the party has contributed to the strengthening of the democratic credentials of Ghana over the years and as they are celebrating their 25th anniversary, we expect them to quickly deal with the differences in the party and provide that kind of alternative Ghanaians want to further deepen democracy.
"When they are able to do this, it will also help the governing New Patriotic Party in the administration of the country because they will constantly remind the government to the do the right thing through constructive criticisms."

He added: "The NDC after 25 years is now facing their biggest challenge because there is so much disconnect between the party hierarchy and the grassroots. If they are unable to manage the challenge well or transform the party without breaking into two, then they will find themselves in serious trouble. If they are able to, then they will be that kind of second force Ghanaians want."