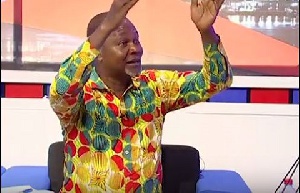 Former National Democratic Congress (NDC) Member of Parliament (MP) for the La Dadekotopon Constituency, Nii Amasah Namoale has revealed that some people within the party are being intimidated because they objected to the imposition of a particular candidate as flagbearer.
He disclosed that some persons who are averse to the imposition of that candidate ahead of the 2020 polls are being blackmailed.

He says the party is currently divided into three camps with two-thirds supporting an unnamed candidate while the one-third have gone into the silence.

According to him, any attempt by leading members to speak the truth about happenings in the party will see one becoming a victim of insults, threats, blackmailing among others.
The former lawmaker refused to disclose exactly who he was referring to but described the conduct of supporters of that particular candidate as autocracy which defeats the democratic credentials of the country.

"Today because of some 'Bulldogs' people are intimidated into silence. Because of One Man the party is divided into three, two third supporting him and one third have gone into silence (culture of silence). You say any truth not in his 'One Man' favour, you are finished with insults, threats, warnings, blackmailing etc. Oh what a 'Democratic' Congress we have. The one-third that are being bullied are needed for 2020. We are to practice democracy not oligocracy, autocracy and monarchy. Is there an English language word 'OneMancracy'? I want to know. The party is divided because of OneMan," he said.