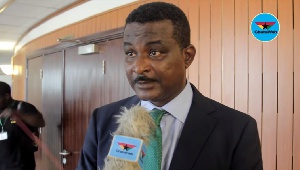 The Member of Parliament (MP) for Cape Coast South, George Kweku Ricketts-Hagan, has notified the leadership of the opposition National Democratic Congress (NDC) of his intention to contest as presidential candidate for the party.
According to him, he has officially written to party's General Secretary.

He said in an interview that "We went into an election in 2016 and lost…we have come back to the drawing board to strengthen ourselves with new ideas, with new vision and that is what I believe I will be able to offer my ideas to the party going forward and that is the reason why I have put my heart in the ring among others."
Mr Ricketts Hagan said he sees himself as a better candidate to lead the NDC into the future. In 2017, he notified his colleague MPs in parliament of his intention to contest as candidate.

Chief scribe of the party last week announced that the party has officially declared campaign opened. He also directed all interested individuals to notify the Functional Executive through his office if they desire to contest.