Flagbearer hopeful of the National Democratic Congress, Sylvester Mensah has urged enthusiasts and supporters of the party to wipe the slate clean and have a renewed attitude towards the party and its activities to ensure better results in the 2020 elections.
Mr. Mensah who has launched a massive campaign in the Northern Regions of the country since the party flagged off the race said this during a visit to the Gonjaland traditional area. He began with a call on the Overlord of Gonjaland traditional area, Yangbonwura Tuntumba Boresa I, to officially inform him of his tour of the Northern Region and communicate his political intentions as well.

After a warm reception at the Jakpa Palace in Damongo by the Yangbonwura, he proceeded to interact with party faithful to plead for their support and votes in the NDC Presidential primaries to be held in December.

He made an emotional appeal to delegates to put their pain and frustrations of the past behind them and give him their mandate for a fresh start, for change in leadership, a new voice, a new face, a new culture and a new vision.

He further admonished delegates to keep united in the face of glaring failure by the Nana Addo's NPP government.

He highlighted how key policies proposed by the NPP have failed. The 1D1F he said has failed, Free SHS was limping, and the banking sector is collapsing and becoming an industry for non-Ghanaians. He lamented on how all employees who don't belong to the NPP are being sacked. That traders and private businesses are folding up and Ghanaians have regretted giving the NPP their mandate.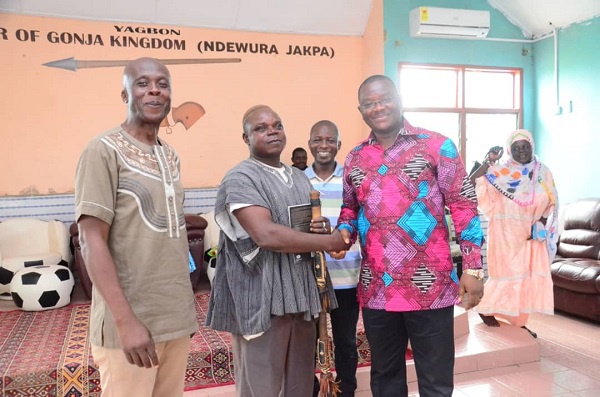 Sly Mensah, however, explained the implications for the party if a leader with one term is selected to lead the party into the 2020 elections.

He assured delegates of a departure from the old ways, pledging to make the party supreme and stronger. He addressed all the local challenges of the party and gave an insight into national policy alternatives to create jobs for the youth.

Sylvester Mensah is one of five other candidates who has formally declared their ambitions to vie for the flagbearership position of the NDC.

His contenders are; Former Minister of Trade and Industry Ekwow Spio-Garbrah, Former Rector of UPSA, Prof Joshua Alabi, Second Deputy Speaker in Parliament and Nadowli/Kaleo MP, Alban Bagbin and Elikplim Agbemava, some of whom have already received endorsements from some party members.

The NDC flagged off the race on August 8 and announced that presidential hopefuls can start campaigning.