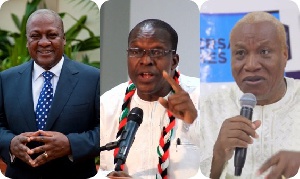 Some anonymous National Democratic Congress (NDC) members have initiated an online campaign to gauge the popularity of three of their key members whose names have come up as the best candidate to lead the party into the next presidential election in 2020.
Among former president John Mahama, second deputy speaker Alban Bagbin and former vice chancellor of the University of Professional Studies Prof. Joshua Alabi, the faceless NDC people are seeking to identify the one who is "a charismatic, visionary and decisive" and has the wherewithal to win power from the New Patriotic Party.

It is unclear who the initiators of the Google document web-based survey are, it has since been shared by some key personalities within the NDC, including some members of parliament.

Apart from Mr. Bagbin who has officially declared his intention to contest the flagbearership slot of the NDC ahead of the 2020 elections, both President Mahama and Prof. Alabi are yet to make such declaration though sources within the party say the two will be contesting.

In April this year, highly placed sources told 3News that the former NDC Member of Parliament (MP) for Krowor Constituency, Prof. Alabi, has the support of some NDC bigwigs to be its flagbearer in 2020.

The former Greater Accra Region Minister left the political limelight in 2001, when he lost his seat but wants to return to lead the party in the 2020 presidential polls.
The 3 standout Though initiators admitted that nomination for the flagbearership position is yet to be opened for interested people to file to contest, the three key party personalities "are so far standing out" in the race.

They have thus began soliciting the views of party members and supporters as well as the general public in an online poll with a view to know the best candidate who could match up to that of the party's key rival, the NPP.

Through the campaign, they group want to know which of the three prospective candidates has the credibility, vision and among others, better placed to wrest power from the NPP. Also, whether people are willing to sponsor the party financially, what people like about the NDC, what they can do to help the party win power in the next election, as well as what they would want the party to do for them.

The NDC is also using the survey to know what will motivate people to support the party and its ideas and also to understand what people don't like about the party which has been characterized by wrangling following the humiliating defeat in the 2016 general elections.

Again, they are seeking to understand how the public perceives the NDC, by asking the public whether the NDC has lost credibility as an honest, accountable and social-democratic party.