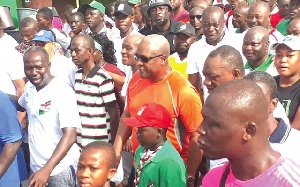 Henry Osei, popularly known as 'Shoe', MP-hopeful for Cape Coast South, has said, the manner in which the branch executive elections of the main opposition National Democratic Congress (NDC) were conducted is a harbinger of the party's victory in the 2020 general polls.
The NDC just concluded its branch executive elections across various regions.

A statement issued by Mr Osei, said: "Just as in every election, there is always a winner and a loser, we have seen that in this election. But in this case, we are all winners because these were internal contests and it is the NDC that is the winner. I am by this commending all and sundry for the dedication and commitment shown before, during and after the successful elections. I must say that there is no better democratic party in Ghana than ours. Let peace and tranquility live among us forever to solidify our base in order to retain the Cape Coast South Parliamentary Seat in 2020 and beyond.
"For those who lost, this is the time for us to do a sober reflection on our chances moving forward, as well as collaborate with the winners to better build our great party to wrest power from the NPP and offer better governance to Ghanaians. To the winners, the journey and fight have just began; bring all on board and let us pray for strength from the Almighty to be able to move our party forward to victory in 2020. Let us close our ranks and unite towards election 2020. This is the time for togetherness at our various branches and it would not be in anyone's interest to weaken the party.

It added: "Once again, I congratulate all of you. We are all winners because among all our members, we showed boldness to lead the party into greatness".