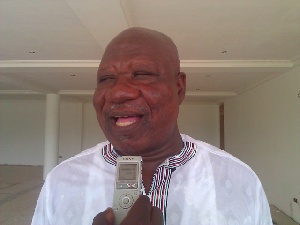 A Public interest Lawyer and Ghana's former High Commissioner to India, Sam Pee Yalley has dared the National Democratic Congress' Allotey Jacobs to drop a purported "bomb" the latter claims is hanging around his chest.
The Central regional chairman of the NDC, Allotey Jacobs is reported to have said that there are lot of issues on his mind and that the party will collapse if he voiced them out.

According to Allotey Jacobs, the NDC in the last election had offended the party's supporters, many of whom, he said are angry and eager to vent their frustration about the party's defeat.

"If I start talking, NDC will collapse. There is a bomb hanging on my chest, and if it falls, the party is doomed," Allotey Jacobs said in a radio interview.

Allotey Jacobs' comment seems to have infuriated Sam Pee Yalley who wants the former to drop the said bomb or 'shut up' forever.

Speaking Saturday on Radio Gold's current affairs program, Alhaji and Alhaji, Sam Pee Yalley challenged Allotey Jacobs to pour out his frustrations.
"Listen to Allotey Jacobs. What is he saying? He has bomb hanging on his chest. Let him release it. The NDC will not collapse," he stated.

He suggested that members of the NDC who are playing the blame game and pointing accusing fingers at each other could rather "make lots of sense if they keep quite."

He also bemoaned the situation whereby some leaders of the party have chosen to run to the media to vent their anger about the party's defeat.

He urged all aggrieved supporters to wait patiently for the Dr. Kwesi Botchway Committee to finish their work on possible causes of the NDC's unprecedented defeat in the 2016 presidential election.