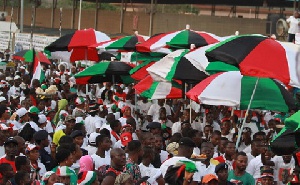 A former Minister of Lands and Natural Resources, Alhaji Inusah Fuseini and member of the opposition National Democratic Congress (NDC) has urged the party not to encourage the practice of crowdsourcing to its events, especially rallies and unity walks.
According to him, crowdsourcing will not give the NDC the right picture on the ground as regards its membership size.

The NDC after suffering a humiliating defeat at the 2016 general election begun the 'Unity Walks' across the 10 regions of the country which is targeted at closing the ranks of the umbrella family and building bridges that were broken in the party before and during the 2016 electioneering.

The walks have seen thousands of party members thronging the streets and participating in the exercise, with some political analysts questioning the source of the milling crowds as to whether they were indeed members of the party in the respective areas they walk has been organized or that the crowd was bused from elsewhere.
Speaking to Bola Ray on Starr Chat on Starr FM, Hon. Alhaji Inusah Fuseini argued that it will be important for only Kumasi members of the NDC to partake in the upcoming Unity walk slated for the Ashanti Region in order to know the party's membership base.

"I believe that people in Kumasi must organize the unity walk, that's how we're going to know our real strength on the ground. Crowd sourcing doesn't give us the real picture on the ground. NDC has not done crowdsourcing consciously, looking back you ask yourself so what happened after Cape Coast, then what happened after Accra, where are all those who filled the stadia or stadium in Accra.

So looking back it didn't give us our real strength, so when we lost disastrously in Accra, that number we saw was not reflected."