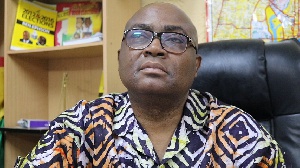 Pollster Ben Ephson has asked appointees in the erstwhile Mahama administration being denigrated by the Second Deputy Speaker of Parliament not to respond.
Alban Bagbin, who's one of the leading contenders in the scramble to lead the NDC in 2020 election in an unprovoked diatribe questioned former President John Mahama's appointing competence.

Speaking to delegates in the Volta Region, the veteran lawmaker slammed Dr Omane Boamah's appointment as Communications Minister by Mahama as bad because he stammers.

"I learnt from tradition that it is not the chief that speaks, it is the linguist and, so, when you are a leader, you must have a very good linguist.

"When Prof [Atta Mills] was in power, Haruna Iddrisu was our linguist in charge of communication, when my brother John [Mahama] came to power, he substituted him for Dr Omane Boamah who is a natural stammerer," said Bagbin during his tour of the Volta Region.

Bagbin further described the appointments of the Member of Parliament (MP) for North Tongu Samuel Okudzeto Ablakwa and Dr Seidu Daana, as Deputy Education and Chieftaincy Ministers as terrible.

"In our tradition, if you are not whole can you be a chief or a queen mother? So when you form a government and make the minister for chieftaincy a blind person, and the chiefs are objecting and you don't change it, what are you telling the chiefs?
"These are facts I'm stating, I have not added anything. You all know it but maybe you may not have appreciated the impact on what happened. And when some of us are close and we can foresee it and we say it, then they are called upon to insult us," he said of the former Chieftaincy Minister.

Commenting on the development, Ephson expressed disappointment at the strategy of Bagbin in his bid to lead the NDC into the 2020 elections describing his comments as "very inappropriate."



According to him, it will be worthless to respond to the veteran lawmaker as he's on a suicide mission.

"…They should leave Bagbin. he's just digging his own grave with regards to appeal to delegates. They shouldn't mind him," stated Ephson on Starr Midday News Wednesday.