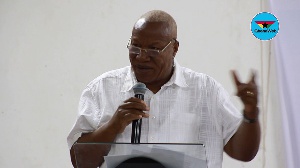 Professor Joshua Alabi, the former Vice-Chancellor of the University of Professional Studies (UPSA) a flagbearer hopeful of the National Democratic Congress (NDC), has advised his party to invest in the financial market to ensure regular flow of funds to the party grassroots.
Prof Alabi explained that each constituency of the party must be guided to invest in fixed deposits, treasury bills, bonds and other financial instruments, which may provide a higher return.

The interests accrued could, therefore, be used to run the affairs of the constituencies when the national headquarters had not sent them any financial support.

Speaking in a media interview, in Accra, Prof Alabi explained that such investments were to enable the constituency executives attend to the branches of the Party and to help strengthen the grassroots ahead of the national elections.

The interview was to explain his vision for the NDC, the country and the related outcome of his tour of the regions.

He said: "If we do such investments for the party, constituency executives will not have to worry about where to go for money to transport themselves to programmes or to attend to the welfare needs of party executives.
The former Vice-Chancellor, who is also a former Member of Parliament, a former Minister and a former Regional Chairman of the Party, said he was passionate about implementing strategies to make the constituencies financially sustainable, thereby making the Party's foot soldiers feel proud of their party.

Prof Alabi said he was confident that he would become Ghana's next President and run the country for eight years, should his party approve his bid.

"I will make Ghana the Swiss of Africa when given the nod and I know I will win hands down," he stated.

"I know surely that I will win the primary; God is at the centre of my campaign," he said.


Outlining his vision for Ghana, he said he would transform the country into the financial hub of Africa.

Prof Alabi has been widely acknowledged and awarded for transforming the Institute of Professional Studies into a competitive university.