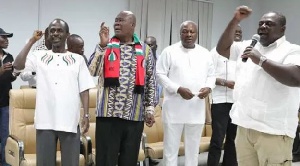 The main opposition National Democratic Congress (NDC) needs a new focus and direction ahead of the 2020 presidential and parliamentary elections, Mr Yaw Boateng Gyan, former National Organiser of the party, has said.
According to him, the work at hand following the party's defeat in the 2016 elections is a daunting one that requires fresh and new ideas to surmount.

He told Chief Jerry Forson on Ghana Yensom on Accra 100.5FM on Friday, 4 May that in the 2008 elections won by the NDC, the party adopted a brand new strategy in the body politic of Ghana – the door-to-door strategy, which, according to him, drew a lot of voters to the NDC.

"It worked effectively", Mr Boateng Gyan said, adding: "You cannot just stay in Accra and be sending logistics and resources to the grounds, it won't reach there. That was what happened to the current leadership in the 2016 polls leading to our defeat."
He indicated that he will contest in the upcoming delegates' conference of the party to become the National Organiser again.

"I have the strength and the energy to work for the party as the national organiser," he said.