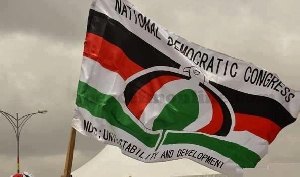 Mon, 28 Aug 2017 Source: Nana Kwabena Agyare
Deputy youth organizer for the governing New Patriotic Party, Salam Mustapha has revealed that members of the erstwhile Mahama administration pride themselves in who was more corrupt.
According to him, there was internal competition amongst public officials in the former regime on who was more corrupt. A competition he said had affected the effective operations of various public institutions and governments intervention programs.

Speaking on Agoo TV's Yensempa show to host Bonohene Baffour Awuah, He said the Previous administration under the watch of former president Mahama engaged in so many corrupt activities that eventually run down the National Health Insurance Scheme which the Nana Addo led government is salvaging now.

"We won the 2016 general elections because of the indiscriminate corruption amongst NDC officials. There was competition in stealing between public officials.''
According to him, the NPP government unlike the erstwhile NDC administration has the interest of Ghanaians at heart that is why they are implementing good policies to get the country back on track.

His comments comes on the back of comments made by the president Akufo-Addo at the NPP's National Delegates Conference held over the weekend. The president at his party's National delegate's conference warned all officials in his government that he was not going to spare anyone found to be engaged in any corruption scandal.
Source: Nana Kwabena Agyare