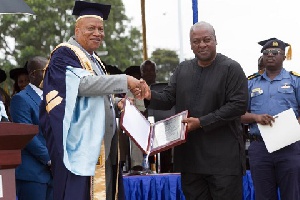 A former first Deputy Speaker of Parliament, Kenneth Dzirasah has endorsed the candidature of flagbearer hopeful Prof. Joshua Alabi as the suitable person to lead the opposition National Democratic Congress into the 2020 general election.
According to him, Mr. Alabi stands a better chance of wrestling political power from the NPP than other aspiring candidates.

The party in a press conference on Thursday, addressed by the general Secretary, Johnson Aseidu Nketia also known as "General Mosquito" announced that it has opened nominations for persons seeking to contest the flagbearership slot of the party ahead of the 2020 elections.

Speaking to Accra-based Citi FM, the former North Tongu lawmaker said his decision to support Joshua Alabi stems from the difficulty in marketing former president John Mahama to the Ghanaian electorate after losing the 2016 elections to then candidate Akufo-Addo with a huge margin.

"I would like to say that after sober reflection about the way forward for the National Democratic congress, myself and my big brother Ambassador Gbeho conducted a few investigations and came to the conclusion that the most marketable personality that could carry us into the year 2020 as a flagbearer is Professor Joshua Alabi" he said.
He explained that, presenting a fresh face to the Ghanaian electorate on the ticket of the NDC who will have the privilege to run for eight years is the right way to go.

"We have found in the man a personality who has all it takes, his achievement, his attitude toward the party and a host of other things, now other part is that we need to market somebody who can take us for eight years" he said. Meanwhile, some 94 MPs have signed a document declaring their support for the former President, asking him to lead the party into the 2020 general elections.

Ken Dzirasah together with NDC, Stalwart, Ambassador Philip Gbeho have jointly thrown their weight behind the candidature of Prof. Alabi in the 2020 challenge.