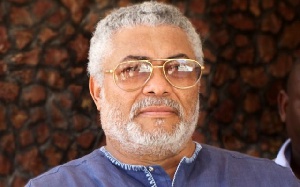 A few days after the Council of Elders of the National Democratic Congress (NDC) had called for the cessation of the war of words among members of the party, it appears some faceless individuals are again making frantic efforts to tarnish the name of the party's founder, Jerry John Rawlings and his wife, Nana Konadu Agyeman-Rawlings.
They have disseminated information in the social media which has since gone viral, accusing Nana Konadu of attempting to 'steal' a piece of land located at Switchback Road – a prime area of Accra – sometime in 2013 when John Mahama's NDC administration was in power.

"Was your wife Nana Konadu Agyemang-Rawlings claiming a 1.5 acre of property at Switchback Road, a prime area of Accra, on the Flair Catering Road?" Mr. Rawlings was quizzed in the message posted on social media.

"Did she (Mrs. Rawlings) attempt to forcefully take over the land sometime in May/June 2013?" the faceless person(s) asked Mr. Rawlings in the said message.

"Did the matter become a police case in which divine priestesses from Osu stripped naked at the Cantonments police station to invoke the intervention of the gods and to prevent innocent persons from being detained at the behest of Nana Konadu?" it queried.

Mr. Rawlings has become a thorn in the flesh of many members of the NDC, especially those closely linked to former President Mahama.
This is due to the continued open and strong criticisms of some top members of the NDC by Mr Rawlings on issues mostly bordering on corruption and gross neglect of the party's ideologies.

He recently came under attack from Valerie Sawyerr, a former Deputy Chief of Staff under the erstwhile Mahama's administration, after he (Rawlings) had in a speech at the 80th anniversary of the Asafotufiam Festival at Ada, hit back at some members of the NDC who hold the view that his words against some officials of the party depict his hatred for his own party.

Mr. Rawlings had indicated that he was just a patriotic citizen who abhors corrupt practices, therefore his remarks against the party stemmed from corruption and bad governance which bedeviled President Mahama's NDC administration.

He noted, "When we speak, they say I don't like NDC. No! I just don't like corruption and bad governance. I don't like disgrace so if NDC does good, I will praise them and if they are bad I will say it as well."

But Ms. Sawyerr, in what appeared to be an open letter, strongly condemned the NDC founder for constantly tagging the party's hierarchy as corrupt.
"They say he booms, I say he buzzes… like an agitated mosquito… looking for his next victim. Is he trying to say that his reign was unblemished or that his twin brother's (President Akufo-Addo's) reign is unsullied? Really?" Valerie quizzed in the open letter.

Most of the attacks on the person of Mr. Rawlings have apparently been by individuals who seem to want to 'equalize the score' by making him (Rawlings) also look dishonest in the public's eyes.

This had compelled Mr. Rawlings to state recently that Valerie Sawyerr, whose father was Education Minister in his (Rawlings') government, was intimidated by his (Rawlings') integrity, for which reason she attacked him.