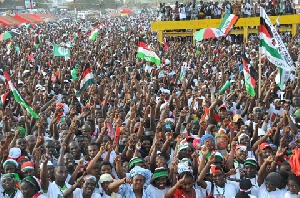 The opposition National Democratic Congress has shunned the biometric process of registering its members following the party's defeat in the 2016 elections.
The party had touted the benefits and integrity of the biometric registration ahead of the polls, but they faced the heaviest political defeat since Ghana returned to multi-party democracy in 1992.

Addressing a news conference in Accra Tuesday, chairman of the umbrella family Kofi Porturphy said the reversal from the biometric to the manual system is part of efforts to improve affairs of the party.

He noted: "The register, which was meant to be a biometric one, did not meet the standards required to make it qualified to be a biometric register. NEC has decided that we should adopt a manual process of capturing the names of members at all branches nationwide.
"In line with the wishes of the majority of the members of the National Democratic Congress, and in the wake of recommendations made by the election review committee chaired by Dr. Kwesi Botchwey, the National Executive Committee, which is the highest decision-making body after Congress, voted unanimously for the scrapping of the register which was used to conduct our internal elections last year".

Some members of the party have blamed the acrimony that characterised the biometric registration for their defeat to President Akufo-Addo and the New Patriotic Party in the December 2016 polls.