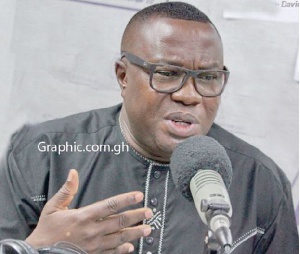 The largest opposition National Democratic Congress(NDC) has chided the Akufo-Addo administration for increasing fuel prices on the eve of Easter which is a major festival among most Ghanaians.
There's been a "slight increment" in the price of fuel on the Ghanaian market. This is irrespective of the 2.5% appreciation of the Cedi against the dollar.

The Institute for Energy Securities(IES) in a statement said "While some OMCs could keep prices unchanged in order to maintain market share as part of the deregulation policy, most OMCs are likely to take advantage of the window to make up for previous 'depressed' margins.

"On that note, IES wishes to conscientize Ghanaians to observe the displayed fuel price boards of the various OMCs before making purchases in order to benefit from the deregulation policy's competitive pricing," it stated.
The NDC National Chairman, Samuel Ofosu Ampofo speaking during an engagement by ex-President John Mahama to some driver unions in Accra, said per the increase in fuel price the government has demonstrated its insensitivity to the plight of the ordinary Ghanaians.

"I stand for correction but I've been told that fuel prices have gone up and it shows whether the government of the day is sensitive to the plight of the people or not. We know that Easter is the time when ordinary people, Christians want to undertake various travels to conventions and other programmes. And you can imagine that when churches have undertaken contracts with drivers and they are going to pick them this morning for their various Easter conventions and on the eve of Easter you increase fuel prices, it shows whether you are sensitive to the people or not.

"We believe that we have the man who has demonstrated his sensibilities to the ordinary people of this country. When he became the president of this country we invested in infrastructure and in various districts and regions we have gone, the GPRTU has come to testify the various lorry parks and markets that have been built were built by ex-President John Mahama. So we're here to interact with you and to assure you that given the opportunity for the second coming, he's even going to do more."