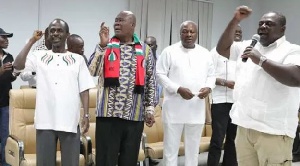 The Eastern Regional branch of opposition National Democratic Congress (NDC) has suspended its Chairman and three others in the Akropong Constituency for violating the party's constitution during the 2016 electioneering campaign.
The suspended executives are the Constituency Chairman, Daniel Ofori Atta; Secretary, Adomako Kwabi; Deputy Organizer, Godfred Sackey and former organizer, Umaru Philip Brima.

The Regional Secretariat suspended the four executives after it received a petition filed by 17 branch executives in the Akropong Constituency.

The constituency chairman, Daniel Ofori Atta during the 2015 parliamentary primaries was said to have openly campaigned for Margret Ansah in clear violation of the party's constitution.

According to them, after losing the primaries, Margret Ansah organized a party in the house of the chairman, adding that Mr. Ofori Atta openly declared support for the independent candidate Asiedu Offei.

"In view of this, coordinators and branch executives, who are loyalists of the chairman and Mrs Margret Ansah, were made to pledge their support for the independent candidate under the full glare of the chairman.
The petitioners revealed that the chairman also used the party's resources to campaign for Aseidu Offei which led to the humiliating defeat of the NDC in the 2016 elections.

The Constituency Secretary, Adomako Kwabi, was also accused of allegedly taking an amount of GH¢2,000.00 from the NPP.

"They promised to fly him to China for holidays if he does not openly campaign for the NDC's candidate and President Mahama, which he did, it said.

The Deputy Organiser, Godfred Sackey was accused of openly campaigning for the independent candidate and distributing his paraphernalia to the NDC members in its strongholds.

Umaru Philip Brima, former organiser, who is vying for the position again, was also accused of serving as polling station assistance for Mr Larteh.