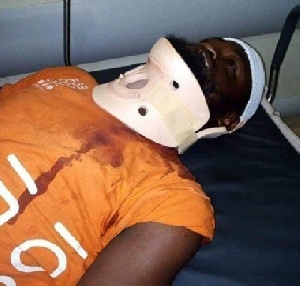 Sanni Mohammed, Deputy Organizer of the National Democratic Congress (NDC) in the Suame Constituency, is currently battling for his life after he was reportedly beaten to pulp by his own party members over the upcoming national primaries of the party.
The NDC Deputy Organizer at Suame Constituency reportedly fell into coma at the Emergency Unit at the Komfo Anokye Teaching Hospital (KATH).

Saani Mohammed was said to be campaigning for George Opare Addo, aka Pablo, who is vying for the NDC's National Youth organizer position when the incident occurred.

Yaw Brogya Genfi, a defeated Suame parliamentary aspirant in the last election, is also in the race.

According to reports, a group of NDC members in the constituency, led by one Saafi Samsu, allegedly attacked Saani Mohammed in a brutal fashion.

Samsu subjected Mohammed to severe beatings at the Suame Shell Filling Station around 10:30pm on Thursday until he (Mohammed) fell unconscious.
Mohammed sustained neck injuries and was rushed to the hospital by some Good Samaritans.

Surprisingly, as at yesterday the security agencies had not made any arrest even though the attack occurred barely three days ago.

Meanwhile, George Opare Addo, has vehemently condemned the violent attack on Mohammed.

He alleged that "Samsu is a known supporter of my opponent in the NDC race and so he attacked Mohammed whilst he was campaigning for me at Suame."

Mr Opare-Addo stated that the NDC abhors violence and wondered why his opponent was trying to adopt weird strategy to humiliate the party.
"I believe politics is not about brawls but a contest of ideas," the NDC aspirant said in a statement on social media.

Mr. Opare Addo quizzed "so I find it unreasonable, why should a contest to elect a national youth organizer of our party end in people engaging in fisticuffs?"

He called on his supporters at Suame to exercise restraint, adding that he would officially report any violent attack on his supports to the party's hierarchy if they are attacked again.