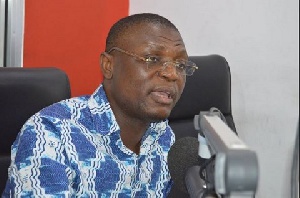 The National Democratic Congress has served notice former Attorney General and Minister of Justice Martin Amidu will be hauled before its Executive Committee following a petition demanding his suspension.
The NDC's National Executive Committee Tuesday received a petition asking that a disciplinary action be taken against the former Attorney General for 'continuously dragging the image of the party into disrepute'.

The petition filed by two party members; Lawyer Evans Amankwah and Abigail Elorm Mensah argued that Mr. Amidu "with exceptional determination and consistency and through many publications and other actions, conducted himself in a manner that has:

1. Brought and continues to bring the Party into disrepute and public ridicule contrary to Article 46(8) of the Party's constitution; and

2. Weakened Party unity and cohesion contrary to article 45 of the party's constitution."

Also, the petition stressed that the posture of the lawyer christened citizen vigilante is "carefully designed to expose the Party to public hatred, ridicule, and opprobrium and to lower its reputation in Ghana and elsewhere."
"Hence, accordingly, we wish the Executive Committee of the Party to take steps to bring disciplinary actions against the Accused," the petition added.

Speaking Wednesday in an interview with Accra-based Citi FM, the National Organiser of the NDC, Kofi Adams said "Martin Amidu will be given the chance to appear before the committee to substantiate or answer to the complaints that have been raised against him."

Afterward, he said, the committee will be given time to submit their report and based on the report a definite decision will be taken on Mr. Amidu's future in the NDC.

He continued that the committee has about six-weeks to submit its report and should he be found culpable, he could be dismissed from the party. "The highest punishment is dismissal and it can be exacted by the National Executive Committee," said Mr. Adams.

Meanwhile, Mr. Amidu has dismissed the petition as "immoral" saying it does not scare him.
"I consider it immoral that Evans Amankwah and Abigail Elom Mensah who were reported on the internet on the evening of 8th August 2017 to have petitioned on 7th August 2017 to the General Secretary of the National Democratic Congress under Article 45 of the NDC Constitution to take disciplinary action against, me, Martin A. B. K Amidu pursuant to Article 47 thereof choose to publish their petition to the press to court cheap popularity in the interim," he said.

He added, "One of the petitioners shamefully described himself on the published petition as Lawyer Evans Amankwah 2016 Parliamentary candidate Adansi Asokwa.

"Lawyer" is not a title which anyone will use to describe himself unless that lawyer has no confidence in his abilities to allow the public to recognize him by using that salutation when referring to him.

"Therefore, I was not surprised when Evans Amankwah and his co-petitioner refused or failed to realise that the NDC Constitution itself recognises that it is inferior to the 1992 Constitution and does not abolish the right of NDC members to exercise their supreme rights as citizens of Ghana to defend the 1992 Constitution against acts of NDC members and Government and even against the NDC Constitution itself when it is inconsistent with and in contravention of the said national Constitution."