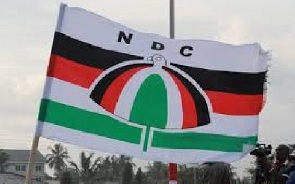 Only 33.1% of Ghanaians would vote for the opposition National Democratic Congress (NDC) if elections were held last year according to a survey conducted by the Political Science Department of the University of Ghana.
The ruling NPP on the hand, will get 52.7% if elections were held around the same time.

The survey also settled on President John Mahama as the preferred candidate for the NDC in 2020.

The survey was conducted in 250 electoral areas across the country with 50000 respondents

Speaking to media Wednesday, head of the Political Science department of the University of Ghana, Dr Bossman Asare disclosed that 5000 respondents were sampled in ten regions.
He further said 250 electoral areas were selected with 18 NDC dominated constituencies and 14 NDC.

He explained that some of the respondents voted for the NPP due to the introduction of some critical social policies like Free SHS and the restoration of trainee allowance

"We can see that once government is working and getting things done citizens also appreciate. But of all these… the most popularly policy has to do with the Free Senior High School," said Dr. Bossman Asare, Head Political Science Department, University of Ghana.

"Many voters indicated that they thought it was a very…very good thing and really identified with it," he added.